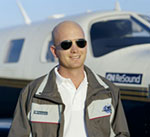 World Flight for Hearing, sponsored by GN ReSound, is a unique round the world flight in a light aircraft, initiated to draw attention to hearing impairment and to the technical aids that are available to assist hard of hearing people. Founder of the project is the hearing impaired Johan Hammarström, 28, that, despite his severe hearing impairment has managed to become an experienced pilot. Johan will together with his two friends Henrik Ejderholm and Martin Håkansson be the first pilot with a severe hearing impairment to complete a world circumnavigation in a light aircraft. Johan is a living proof that with the right attitude and the right technical aids anything is possible, even with a disability.
World Flight for Hearing initiated to make a difference. The following objectives has been formulated:
Draw attention to and spread information about hearing impairment
Show the opportunities with modern hearing instruments

Inspire hearing impaired people to reach their life goals

Assist in raising funds for hard of hearing organizations and for chosen research projects in the area of hearing impairment
World Flight for Hearing is completed in close cooperation with partners and organizations that work for improving the information and situation for hearing impaired, as well as commercial sponsors. Principal sponsor of World Flight for Hearing is GN ReSound, a leading hearing instrument company. Other official partners include e.g. HRF which is the national Swedish organization for hard of hearing and one of the world's largest hard of hearing organizations. Internationally WFH is working with the International Federation of Hard of Hearing People, IFHOH, and more than 20 other hard of hearing organizations. WFH is proud and honored by the large number of well reputed companies and organizations that have chosen to work with us.