---
May 30: Worldflyer reaches Brisbane in Australia
---
The spare part we had been waiting for (the ECU which stands for engine control unit) arrived to Darwin this Monday morning. It again felt very good to be airborne after waiting for the shipment. The people at Phoenix aviation took very good care of us during our unexpected long stay. Regarding the issue with the airplane Thielert is now investigating the problem with the ECU we had problems with in Jakarta, the "good" thing is that it seems to be the same problem at both occasions and we will come back with more information in regards to this. The aircraft is now working very well as we are flying over the great wide opens in the huge continent of Australia.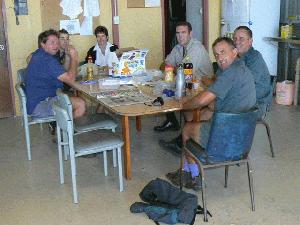 Thanks to all helpful people at Phoenix Aviation!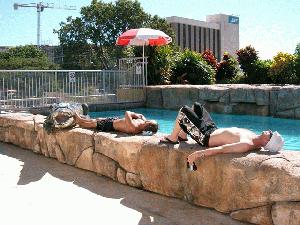 One activity while waiting for spareparts...


During the last week in Darwin we have been traveling around, we had a two days journey into the Kakadu national park, visiting wild crocodiles, nature scenery and Aboriginal culture. There are remains from the Aboriginals as far back in time as 20000 years ago. The Kakadu National park is one of the largest parks in Australia with impressive sceneries; we had the opportunity to fly the Worldflyer on a flight through the park and to the Twin falls, a double water fall falling down a big mountain gap.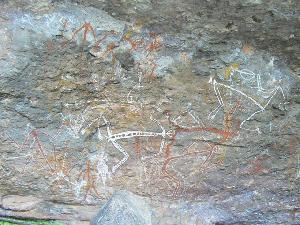 Old drawings from the Aboriginals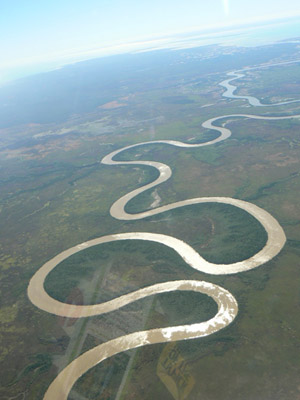 Passing the Adelaide river on our way into the Kakadu national park


During our stay in the park we met several workers working with forest fires, but not with putting them out but to start them and have them burning in a controlled way. This can be done a few weeks per year just in between the wet and dry season, if doing these operations to late in the season it will create fires that are out of control. The reason for burning land this way is to make it harder for natural fires to develop during the dry season. Quite a different way we thought.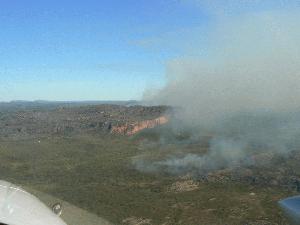 Controled forest fires in the park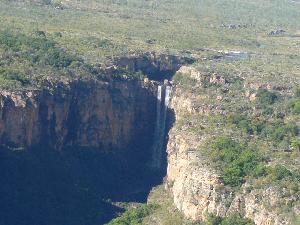 Twin falls in Kakadu


Darwin is a very laidback and humble place compared to the large cities in Asia, so it was a strange feeling of having so much space wherever you go! No overfilled streets filled of cars, taxis and people. No smog, just fresh clean air! The Australian continent is really big and sparsely crowded; during our flight last night from Jabiru to the small mining town Mount Isa we hardly saw any lights at all, for four hours!

When arriving into Mt Isa we also realized that we flew into the Australian winter, it was only 13 degrees when we landed, a real difference from the last months of 30+ temperatures =)

Today we have had a long flight from Mt Isa into Archerfield in Brisbane, a flight of six hours. Again we were struck by the big wide opens! Tonight we will attend a hard of hearing event that GN ReSound has arranged, it will be real fun to attend and spread the word of WFH! Will come back with a story from that!

When coming here to Brisbane I can feel it like a turning-point of our journey, it now feels like we start our way back home instead of flying further away from Sweden!

Now Martin Håkansson joins the expedition, it will be really fun that he joins and to have the complete team onboard! Welcome Martin!

Over and out

Written by Henrik

Comments:
---
Posted by: Damien Rowland
Hello Martin When will you leave brisbane because my friend Kent Power want to see you and meet you here because he is deaf pilot and have aircraft Cessena-he been flying over about 20 years-he lives at gosford near sydney please reply back asap-i will tell him and want to come to brisbane-want to see your plane thanks
Write comments:
---