---
June 11th till June 15th: Fiji to Western Samoa
---
It has been some wonderful days on the Pacific Islands and some very challenging flights due to the very long distances we fly. We spent a day at South Sea Island which is a beautiful small island (you can walk around it in 5 minutes!) just north of the Capital of Fiji, Nadi. The island looked as taken from a postcard with its white sand, green palm trees and crystal clear blue water. Fiji is a wonderful place with probably one of the most easygoing people we have met. There are 800 000 inhabitants of which some 400 000 people live on the main island Viti. The country is ruled by a queen and governed by a Prime Minister. The local currency is Fiji dollar and for a European or American tourist everything is considerably cheaper than home.

We learnt that Fijians have suffered from some political instability through the years and the latest conflict occurred in 2001. It was the Indo Fijians who have expressed dissatisfaction with the government. The consequences of this are that many Fijians have escaped the country, but also the tourism has decreased significantly.

On the 12th of June we left Fiji and set course to Western Samoa. Before we climbed up to our cruising altitude (which was 11 000 feet this day) we did the most stunning flight that we ever experienced! The flight was over the Northern archipelago of Fiji and we got to see the areas where the Blue Lagoon movie was shot many years ago and another twenty or so islands that were just as beautiful.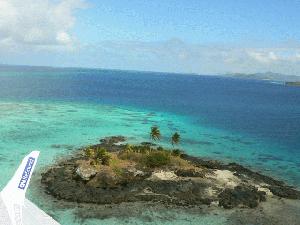 Beautiful flight over Fiji islands!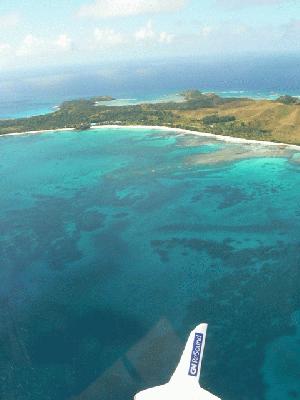 On our flight to Samoa we descended to low attitude to discover the tiny island Niua FoOu which is located half way between Fiji and Western Samoa. Check our plotted route in Google Earth to see where it is! I wonder what the island inhabitants thought when a small airplane appeared in the horizon circling over the island and then disappeared.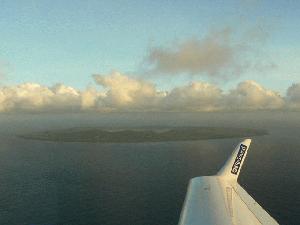 After an almost seven hour flight we landed in darkness at Faleolo airport, close to the capital Apia, on Western Samoa. We have spent two days in Samoa and everything we have seen here is different from everything else we have seen. Western Samoa is the island of bright colors, magnificent sceneries and friendly people. The Samoans acclimatize to the 21st century in their own pace and that is not too hectic. As the average temperature on this island is 26C there is not as strong need for isolation, or even walls. Many Samoans live in the traditional Samoan house that has no walls! We also visited a famous surf resort, Salina, on the southern part of the island. As the waves were really big there we took a descent decision together with the surf guides not to surf. Samoa is not for beginners as the coast is covered by reefs (beginners prefer beaches as that gives you a gentler wave break and the beach won't hurt you as the reef does if you fall on it.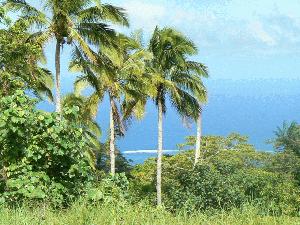 The island of beatiful colours - Western Samoa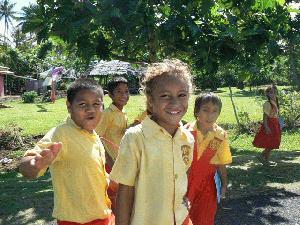 Children on WesternSamoa walking home from school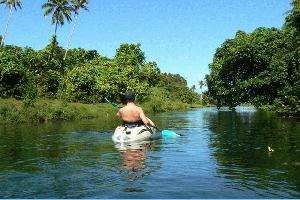 On the rivers of Western Samoa


I am writing this blog on 13000 feet attitude and we have been airborne for more than 10 hours now. We have had headwind but also quite much weather to avoid, but right now everything looks like we can reach Christmas Island tonight.

Written by Johan




Comments:
---
Posted by: Manuel Queiroz
In my RTW flight in March, from Hawaii to California I found very advantageous to follow the airflow around weather systems, even if it means going quite a bit further- the extra ground speed making it worthwhile. Good landings and have fun

Manuel
Write comments:
---