---
June 16 Western Samoa to Christmas Island
---
Up until now we have been quite lucky with the weather throughout the expedition. The last couple of days however we have had a few weather encounters;

After the time in Western Samoa that we wrote about a few days ago we left for Republic of Kiribati and Christmas Island on June 14. As there were some uncertainties with regards to the weather en-route we filled the aircraft with fuel for approximately 16 hours endurance which is plenty for the 1300 Nautical Miles long flight that we had in front of us.

After an uneventful departure from Faleolo we encountered some relatively powerful Cumulonimbus (CB) clouds. CBs are simply bad and these clouds often offer ice, turbulence, strong winds, wind shear. Once in a while you end up in these clouds anyway but you will definitely do what you can to avoid them. Anyhow; after approximately 3 hours en-route we continued to navigate around and between the CBs that became more frequent. From our forecast we knew that we could anticipate precipitation and CB clouds up to the Equator approximately. Time went on and just as we approached the point of decision (a pre-determined point where we decide if we will proceed to the destination or return back to Western Samoa) 7 hours after take off the weather became better and we could comfortably continue to our destination. The challenge with oceanic crossings is the lack of alternatives. This is especially true when flying to a small island with the only runway in a 850 nautical mile radius.

After more than 12 we hours of flying we started our decent towards Christmas Island. By that time we had of course passed our point of no return a good while ago and we were a little concerned when we did not receive any reply from Christmas Information that is supposed to be available 24 hours. We called Oakland Oceanic centre on the satellite phone but they did not manage to get a hold of the Christmas information staff either. At this point we hoped that the runway lights would be lit up anyway in which case we would be able to land. We shot the published GPS approach to runway 08 but at minima all we saw was a complete darkness. There were overcast clouds, no moonlight at all and most island inhabitants do not have electricity at home so there is no "city light" that can guide you as the case is in almost any city airport. We knew that we were flying right over the runway at a low altitude but it was literally impossible to find any visual reference at all without the runway lights. We followed the missed approach procedure and started to think of our options just as we entered a heavy rain shower.

Luckily however the controller Ueta lives in the village Banana just a couple kilometers from the airport. Ueta had heard the sound of our aircraft during our first approach drove to the airport and turned the runway lights on. It was a relief to hear the sound from the VHF radio when it was switched on and we could finally land after the 13 hour long flight. Ueta was (like most people at Christmas Island) a really nice bloke and we much enjoyed his company the coming days. This night he gave us a ride to the hotel in his pick-up truck with a windshield that is completely broken because a coconut fell on it. Exotic.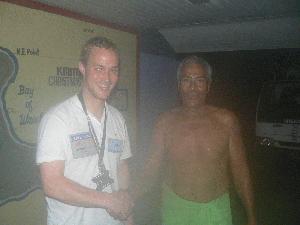 Ueta after our landing at Christmas island

Christmas Island was (like most islands in the Pacific) discovered by the English Captain James Cook on the Christmas Day of 1777. Hence the name of the island. In recent time Christmas Island is perhaps most famous because of the controversial atomic bomb testings carried out by UK in the 50s. When the testings were completed the Brits gave the island away to the Republic of Kiribati. Today this very remote island in the middle of the Pacific Ocean is populated by 5000 Kiribats. The main business on Christmas Island is fishing and coconut farming. It was striking to see how happy the locals are. These people have never seen a city, most do not have electricity or phone at home and it is fascinating to see that these material things do not contribute to better quality of life as we often tend to think.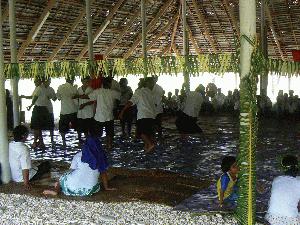 Visit to School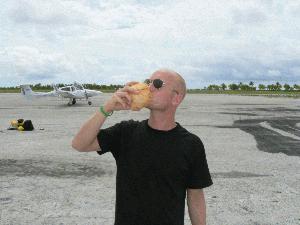 Drinking a refreshing coconut before take off.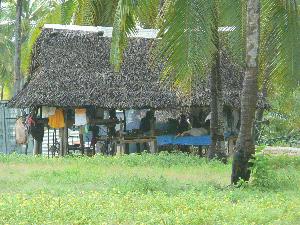 Kiribatian life style

Written by Martin
Comments:
---
Posted by: Cliff Kapololu
I had the pleasure of getting to know the team while they were on Oahu. These are 3 of the best people that you will ever meet, so if you get a chance to help them in any way, do so. I will have my air conditioners on full so if you come back here you can feel like your home in Sweden! I wish you guys a safe trip across the ocean. I will be watching .......Aloha ....Cliff
Posted by: Jim
Today I met the flight crew at Kalaeloa Airport (Ex Barber's Point NAS) as they prepared the aircraft for the next leg.I wished the crew well
Posted by: Jose Matud
Good job sorting out those CBs and making it to Christmas island and Hawaii. I hope you had chance to ride some surf in Samoa. Good luck on hop to Long Beach. I'll be waiting for you with a couple of spare boards!
Posted by: Bob Thomason
Wow! 12 hours of flying to a little runway surrounded by the Pacific Ocean, shooting an instrument approach only to see ------- nothing! Great story. Glad it all worked out.

Bob Thomason
Future Earthrounder
Charlotte, NC
Write comments:
---