---
August 4, 2006 – Hard of hearing activities in Canada
---
The Oshkosh dust is starting to settle and once again; a warm thanks to all the people that has engaged in the WFH during the show. A special thanks to Hans Nilsson with Öst-Flyg/Diamond Scandinavia. We much enjoyed your and Åke's company and warm treatment throughout the show! Looking forward to next OSH. 

The last couple of days we have been working with a couple of events in Toronto. Ed Braun and his team in GN ReSound Canada arranged a very nice program with activities including speeches and a two HoH school classes visiting. It feels very rewarding to see the enthusiasm these children show when hearing Johan's story and when they get a chance to sit in the cockpit of the plane.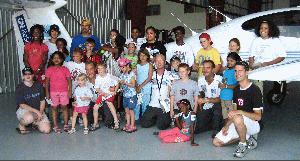 The whole crew


We also had media covering the event and we went flying with one reporter from a Canadian news channel.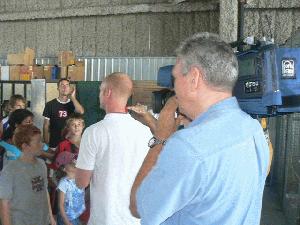 TV covering the events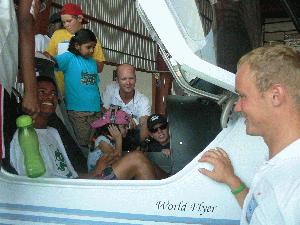 Great interest in the cockpit of Worldflyer


Yesterday we took the opportunity to fly to the Diamond Aircraft facilities in London Ontario. More info on this later on.


Written by Martin

Comments:
---
Posted by: fred singletary
I MYSELF A DEAF MAN AND IN MY LIFE I WOULD SAY DEAF CANT BE PILOT BUT RIGHT NOW SEE U DONE AND CONGRULATION YOU VERY MUCH SAFELY BACK HOME FROM THE TRIP AROUND THE WORLD. KEEP UP WITH YOUR MIND TO NEVER GIVE UP WHEN SAY YOU CANT DO IT.
Posted by: Kurt Kaufman
Martin,
I think this is amazing on what you guys are doing. What an experience this must be. (This is Sophie's fiance by the way). I am looking forward to the time we finally get to meet. I have heard many great things about you. I just got back Sweden/Denmark and had an incredible time. Spent a lot of time with your mom and dad in Ugglarp. It went by way too fast (it always does). Good luck in the rest of your quest and I wish you guys a safe journey.

Rgds,
Kurt
Write comments:
---