---
August 7 – Toronto to Quebec
---
Since Toronto we have had the pleasure to visit several cities in this part of the world. Now we are at 15,000 feet with 195 knots ground speed in blue sky, on top of a beautiful Alto cumulus and Nimbostratus overcast cloud layer inbound Goose Bay, Labrador. We had some weather issues because of a front system passing Newfoundland land and Labrador causing some heavy rain showers and strong winds. Good to be in the air. I am in the back seat, having plenty of time for reflections on the expedition and on life in general. I'll share this with you later on but first a short summary of the last few days (as customary I once again have to start with thanking a bunch of great people that we have met over the last couple of days):

One thing I forgot to mention in the last blog was the excellent BBQ with Norm Livingstone (known from previous blog sessions from Thailand) and his family north of Toronto. Norm recently bought a Mooney Ovation 3 that he is picking up from the factory in a couple of weeks. He will then spend the next 12 months flying around the world with his fiancé Luc. Norm, welcome to the small but privileged group of earthrounders and we are looking forward to seeing you in Sweden in a year. The BBQ was excellent and we had a great night!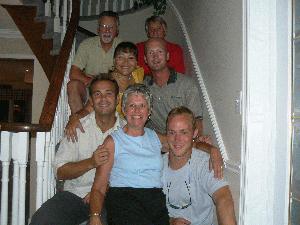 Norm with family


After Toronto we set course to London Ontario where we had the pleasure to meet the nice team at Diamond Aircraft. Diamond helped out with some maintenance while we borrowed the company van to see the Niagara falls. Great welcoming and great service guys. Thanks!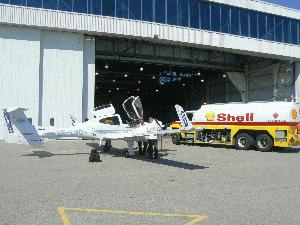 Fueling outside the Diamond facility at London, Ontario


After the Diamond visit we set course for Bangor Maine, US for an interview with Hearing Journal over a delicious lobster dinner at Beautiful Cestine at the coast of Maine. This landscape is just amazing and we really enjoyed both the food and the company! David and Anne, a warm thank you for the very nice treat.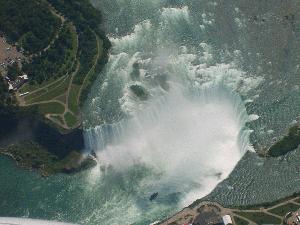 Niagara falls from 3000 feet.


We have also spent a day in the French part of Canada, Montreal and Quebec more specifically. No offence America but it felt very refreshing with some European style cuisine, sophisticated architecture and European influences.  We had a good time here and this is definitely a part of the world that we will come back to at some point.

Written by Martin
Comments:
---
Posted by: Rodney Lusk
I'm a Pediatric Otolaryngologist who does cochlear implants in children at Boys Town National Research Hospital in Omaha Nebraska, and a Diamond DA40 owner. I love my ship and am just about finished with my instrument rating. My first love is soaring and I have recently purchased a Carat motor glider. I have been thinking about soaring across the united states to do exactly what you are doing but on a much larger scale; trying to raise awareness of the needs for early identification of hearing loss in children and to promote cochlear implants in children whose parents chose this treatment modality.
I would love to talk with you and see how you went about raising funds and promoted the expedition.
Posted by: Norah-Lynn McIntyre
Hi there! Unfortunately I was out of town during your visit to Toronto, but Kim Martin shared the tremendous experience her son, Chris, had in meeting you. Chris is one of our VOICE alumni. We would love to feature a story about your meeting with him in our next year's magazine. Our conference in 2007 is about meaningful mentorships; I know Chris was inspired by your achievements and this could be a feature of our publication post-conference. Let me know what you think!
Norah-Lynn McIntyre, Executive Director, VOICE for Hearing Impaired Children
Posted by: Gunnar Ehn
Hej Martin!
Having lot of fun following the trailblazing trip you guys are doing! Truly 21st Century pioneers! Wish I could see those amazing emerald icebergs you must be experiencing!Happy landing! Your uncle
Write comments:
---