---
August 25: Celebrations
---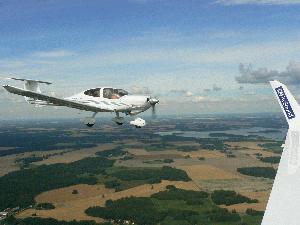 Worldflyer escorted by Diamond Star (DA40) inbound Barkarby


19th of August was a big day for the WFH team. But not only for us, it was also a very big day for our sponsors, relatives, family and girlfriends. More than 100 people were gathered at the homecoming event at Barkarby Airport and World Flyer was exclusively escorted by ÖstFlyg AB (Diamond Scandinavia) from Västerås to Barkarby and I believe it was as breathtaking for us as it was for the people on the ground when we entered Barkarby airspace. We did a few fly bys before we landed runway 06 and entered the taxiway to the flying club. The goal line stripe was stretched and the audience were cheering loudly when we opened the canopy and stepped out from the aircraft after more than 5 months of travelling. What a feeling! Media was there to capture some great film and photos, but the first ones to run towards us was my mother and girlfriend.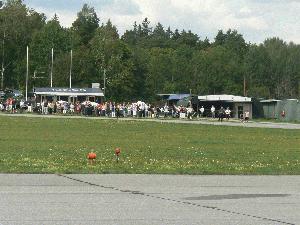 A big crowd met us at the finish line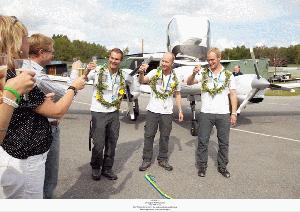 Photo by Peter Knutsson (c)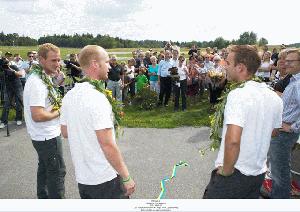 Photo by Peter Knutsson (c)


After about 45 minutes of saying hello to everyone and a brief speech we entered the EAA house to begin the first sum up speech ever held by the WFH team. The room was absolutely topped off with people and everyone was listening carefully to the exciting presentation we held all three of us. Many pictures to laugh at!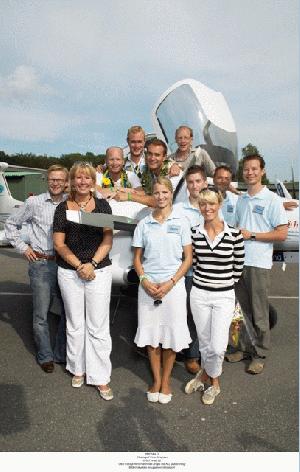 The whole WFH team - Photo by Peter Knutsson (c)


At 18:30 the dinner started at beautiful Waxholm hotel, in the inner part of Stockholm Archipelago. Here we had the opportunity to show our appreciation to some of all people that has worked hard for several years to turn World Flight for Hearing into reality and a success. During the delicious dinner Thomas Lindberg entertained the guests with a much appreciated song performance. The dinner was rounded off with cocktails and clubbing at the local bar/club Kabyssen. We had a spectacular night with family and friends!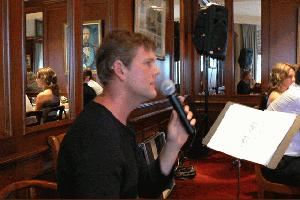 Entertainment by Thomas Lindberg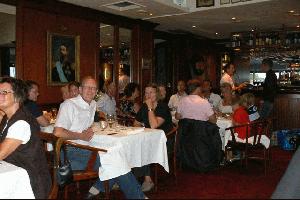 Dinner at the Waxholm Hotel


Although the expedition World Flight for Hearing is now successfully completed, the project will continue to run until the end of the year (New Year 2006/2007). During this fall we will participate at a large number of events and activities both related to hard of hearing and to aviation. The next big event is our concluding European tour the 1st to 9th of September. This is an opportunity for us to visit Germany, Austria, UK, Netherlands and Denmark and we will among other things participate at the XXVIIIth International Congress of Audiology, ICA, held in Innsbruck Austria. Please come and meet us in GN ReSound's exhibition area!

The blog will continue to live for another month or so and after that we will make sporadic updates of the Web site until end of 2007 at least. Continue to check in here.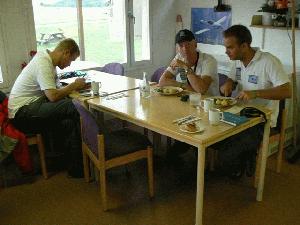 Life slowly returns to normal - The team at Barkarby the day after


Written by Johan and Martin
Comments:
---
Posted by: Tom East
You and your team (sponsors,ground crew and families) deserve a big hip-hip-hooray for the amazing accomplishment of raising awareness.


Thank You,
The East Family
Posted by: Fabio Lombana
Su hazaña es un mensaje de aliento para todos los que sufren de la falta de audicion. Bien por esa, personas como ud. son ejemplo que debemos imitar
Posted by: Brian Goranson
Congratulations Johan, Martin and Henrik and your team. After such a grand flight what is next for you?

I am planning a Western Canada to Sweden trip next July in my 172. What Insurance company did you use for your trip?

Cheers,

Brian Goranson
Write comments:
---